Sid Meier's Civilization V is the fifth offering in the multi-award winning Civilization turn-based PC strategy game series. As with earlier installments in the series, Civilization V features the famous "just one more turn" addictive gameplay that has made it one of the greatest game series of all time. In addition to this it also features improved diplomacy, unprecedented modding tools and functionality, new ranged combat over a hex oriented board rather than squares, an in-game community hub facilitating improved online play and more.
Developer: Firaxis
Publisher: 2K Games
Genre: Turn-Based Strategy
Release Date: September 21, 2010
Play modes: single player
Game language: English
Age requirements: Everyone
System requirements:
• Windows XP SP3/ Vista SP1/ Windows 7
• 2.2ghz Pentium IV or equivalent AMD Athlon Processor
• 1GB System Ram/ 1.5GB for Vista and Windows 7
• 128MB Nvidia GeForce 6600 GT/ ATI Radeon 9800 PRO video card
• 1024×768 minimum display resolution
• 8GB free hard drive space
A Legendary Franchise Reborn
With over nine million units sold worldwide, and unprecedented critical acclaim from fans and press around the world, Sid Meier's Civilization is recognized as one of the greatest strategy franchises of all-time. Now, with Sid Meier's Civilization V, Firaxis Games takes this incredibly fun and addictive strategy game to unprecedented heights by adding new ways to play and win, new tools to manage and expand your civilization, extensive modding capabilities and intensely competitive multiplayer options.
Civilization V comes to life in a beautifully detailed, living world that will elevate the gameplay experience to a whole new level making it a must-have for gamers around the globe. In Civilization V, players strive to become Ruler of the World by establishing and leading a civilization from the dawn of man into the space age, waging war, conducting diplomacy, discovering new technologies, going head-to-head with some of history's greatest leaders and building the most powerful empire the world has ever known.
Playable Civilizations
Civilization V features 18 playable civilizations chosen from every corner of the globe and from pivotal points in history. Each of these features a charismatic and historic leader who speaks in his/her native tongue, while their forces possess special abilities and units. The culture of each civilization will evolve, with players unlocking and adopting social policies over time, which bring benefits and improvements appropriate to the stage of civilization achieved to that point.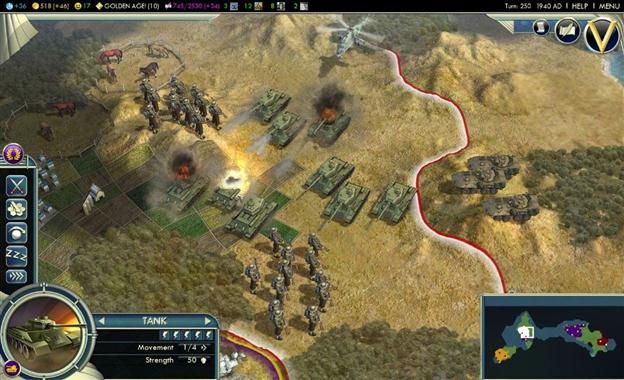 Key Game Features


• Believable World – More than just a strategy game — the expanded visuals and immersive audio invite would-be kings to take up the reigns of power and forge a mighty empire. Civilization V offers a limitless variety of vast, realistic and diverse landscapes for players to explore, battle over and claim as their own.
• Inviting Presentation – An intuitive interface eases both new players and Civ veterans into the game. Guided by a set of trusted advisors who will explain game functionality and provide counsel for significant decisions, even first-time players will be confident in the choices they make.
• Huge Battles – Combat is more exciting and engaging than ever before. Wars between empires feel massive with armies spreading across the landscape. The addition of ranged bombardment allows players to fire weapons from behind the front lines, challenging players to develop clever new strategies to guarantee victory on the battlefield.
• Live History – Write your own epic story each time you play. Choose one of eighteen historical civilizations to lead from the stone-age to the space age on your quest to build the world's most powerful empire.
• Improved Diplomacy – Negotiate with some of history's most cunning rulers, each with a well-crafted plan for victory. Successful diplomacy will depend on players carefully managing relationships with other leaders, trading items and land, plying them with gold, and deciding if they are friend or foe. City States will present a new diplomatic battleground on which the major powers of the world will vie for supremacy.
• In-Game Community Hub – Compete with Civ players from all over the globe via the Internet, offering endless ways to rule the world. The game itself now serves as the hub of community activity, featuring the ability to share scenarios, compare scores, brag about achievements and visit one of the thriving Civ fansites without leaving the game. It's now easier than ever for players to become involved in the global Civ Community.
• Modability – With unprecedented modding tools, players will have unlimited options for modifying Civilization V any way they like.
• New Hex-Oriented Play Spaces – New play area orientation into hex spaces, rather than traditional squares, offers new challenges in game area exploration and expansion.


Minimum System Requirement


• Operating System: Windows® XP SP3/ Windows Vista SP2/ Windows 7
• Processor: Dual Core CPU
• Memory: 2GB RAM
• Hard Disk Space: 8 GB Free
• Video: 256 MB ATI HD2600 XT or better, 256 MB nVidia 7900 GS or better, or Core i3 or better integrated graphics
• Sound: DirectX 9.0c-compatible sound card
• DirectX: DirectX version 9.0c



Recommended System Requirements


• Operating System: Windows Vista SP2/ Windows 7
• Processor: 1.8 GHz Quad Core CPU
• Memory: 4 GB RAM
• Hard Disk Space: 8 GB Free
• Video: 512 MB ATI 4800 series or better, 512 MB nVidia 9800 series or better
• Sound: DirectX 9.0c-compatible sound card
• DirectX: DirectX® version 11
Civilization V – GOTY Incl Gods and Kings – REVOLT
All in one:
1. Civilization Pack: Babylon
2. Civilization and Scenario Pack: The Mongols
3. Cradle of Civilization Map Packs: Mesopotamia, Americas, Asia and Mediterranean
4. Double Civilization and Scenario Pack: Spain and Inca
5. Civilization and Scenario Pack: Polynesia
6. Civilization and Scenario Pack: Denmark – The Vikings
7. Civilization and Scenario Pack: Korea
8. Wonders of the Ancient World Scenario Pack
9. Explorer's Map Pack
10. Lastest expansion: Gods and Kings

Pass : gamezhub.net
1. Download
2. Unrar
3. Run setup.exe and install the game
5. Play!
Gods and Kings expansion pack – REVOLT
Sid Meier's Civilization V: Gods and Kings is the first expansion pack for Civilization V – the critically
acclaimed 2010 PC Game of the Year. This robust expansion covers the entire scope of time from
founding your first Pantheon of the Gods and spreading religion across the world, to deploying your
spies in enemy cities in order to steal information and technology.
As you move through the ages, you'll interact with new types of city-states, engage in new city-state quests and global competitions, and master exciting new systems for land and naval combat. Civilization V: Gods and Kings will also include nine new civilizations, nine new wonders, three original scenarios, and dozens of new units, buildings, and techs that will offer even more ways for players to expand their empire and dominate the world.
Pass : gamezhub.net
Unrar all contents to your Civilization V folder
Play!