L.A. Noire: The Complete Edition is a dark and violent crime thriller set against the backdrop of 1940's Los Angeles, where newly-minted officer Cole Phelps embarks on a desperate search for truth in a city where everyone has something to hide. Utilizing revolutionary new facial animation technology, L.A. Noire blends the breathtaking action of chases and shootouts with true detective work to deliver an unprecedented interactive experience.
Developer: Team Bondi
Publisher: Rockstar Games
Genre: action-adventure
Platform: PC / Windows
Release date: 08 November 2011
Play modes: Single player
Game language: MULTI5
Age requirements: 18+
Suggested system requirements:
• OS: Windows XP, Vista or Windows 7
• CPU: Quad Core 3.2 GHz
• RAM: 4 GB
• HDD: 16 GB free disk space
• Graphics: 1 GB Graphics Memory
• Sound Card: DirectX 9 Compatible
• DirectX: Version 9
Featuring the groundbreaking performance capture technology called MotionScan®, L.A. Noire lets players analyze every subtle nuance of an actor's performance. By using real-life interrogation techniques combined with classic action elements, L.A. Noire enables players to truly explore what it means to be a detective in 1940's Los Angeles.
Developed by Rockstar Leeds, L.A. Noire: The Complete Edition will be available on November 8th in North America and on November 11th in Europe.


CHARACTERS
CRIME DESKS
BEHIND THE SCENES
LOS ANGELES 1947


System Spec


Operating System: Windows 7 / Windows Vista Service Pack 1 / Windows XP Service Pack 3 / OnLive® for PC or Mac
Processor: Intel Dual Core 2.2GHz to Quad Core 3.2GHz / AMD Dual Core 2.4Ghz to Quad Core 3.2Ghz
RAM: 2GB to 8GB
Hard drive space: 16GB
Video Card: NVIDIA GeForce® 8600 GT 512MB to NVIDIA GeForce® GTX 580 1536MB / Radeon HD 3000 512MB to Radeon HD 6850 1024MB
Sound Card: 100% DirectX 9 Compatible
DVD Drive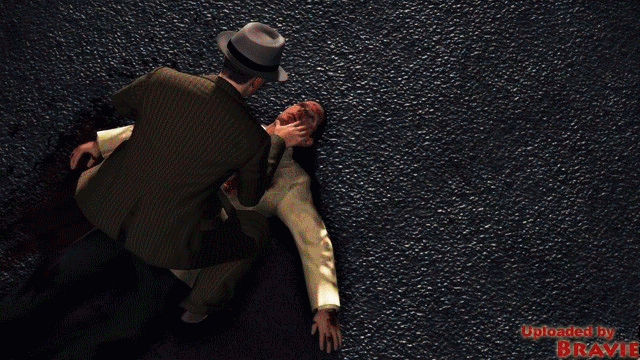 SKIDROW PROPER SCENE RELEASE (2DVD – 14.3G)
RAR Pass: bravie
safelinking pass : gamezhub.net
L.A. Noire Update v1.3.2613 + DLC packs


DLC packs
5 Additional Cases ranging from Traffic to Arson
The Badge Pursuit Challenge – Find and collect badges to unlock the Button Man Detective Suit
The Broderick Detective Suit – Boosts your fist fighting capabilities and resilience to damage
The Sharpshooter Detective Suit – Sharpens your aim with rifles and pistols
The Chicago Piano A powerful machine gun stored in the trunk of your car
NVIDIA 3D Vision
Enhanced resolutions and graphical performance
Keyboard mapping
Gamepad support
1. Unrar
2. Install the update to the same dir as where L.A. Noire is installed.
3. Copy over the cracked content from the Crack dir to the <install> dir of the game.
4. Play the game.
GAME FIXES


1. Try to update all essential softwares
2. If anyone is having problems with the update just running and not doing anything you have to apply it in safe mode
Run msconfig,click Boot tab,click Minimal,Restart,Apply patch,run msconfig,uncheck,restart. Everything should be fine!
3. Disable AV program (especially Kapersky)
4. L.A. Noire The Complete Edition (PC) Crash Fix – Crash to Desktop upon Launch / Startup
If you're game randomly crashes upon launching the game, ensure or try the following:
- Update your nVidia / ATI graphics drivers
- Turn off SLI / Crossfire
- Try using only one GPU first (turn the other one off via your graphics control panel)
- Disable anti-aliasing and filtering
- Disable V-sync
- Disable background apps, and turn off your anti-virus software
- Run through our list of general fixes, which will most likely resolve your problems
5. L.A. Noire The Complete Edition (PC) Game Freeze Fix – Game Freezes during the Intro Video
Ensure that both your graphics drivers and DirectX are updated.
6. L.A. Noire The Complete Edition (PC) Crash Fix – Game crashes when launching / upon launch
This is a typical DirectX problem. Just update to the latest DirectX version and voila.
7. L.A. Noire The Complete Edition (PC) Graphics Fix – Cannot see main menu, Menu crashes, Dual monitor problems
A common problem when playing on multiple screens. For now, the solution is to unplug other monitors and play on single screen. If that doesn't work, try playing in windowed mode.
Essential software, update
Rockstar Games Social Club
http://socialclub.rockstargames.com/#/register
Microsoft Visual C++ 2008 SP1
http://www.microsoft.com/download/en/details.aspx?id=5582
Microsoft .NET Framework 3.5
http://www.microsoft.com/downloads/details.aspx?FamilyId=333325FD-AE52-4E35-B531-508D977D32A6&displaylang=en
http://www.microsoft.com/download/en/details.aspx?displaylang=en&id=8109