A special highlight this year is the 3D game option of FIFA MANAGER 12. This area of the game representation is a matter close to the heart for a lot of fans of the franchise, so that this year a whole team consisting of designers, graphic artists and programmers have put the entire logic of the 3D mode to the test and completely reprogrammed large sections of it.
Developer: Bright Future
Publisher: Electronic Arts Inc.
Genre: sport /
Platform: PC / Windows
Release date: 21 October 2011
Play modes: single
Game language: English+4
Age requirements: everyone
Suggested system requirements:
• OS: Windows XP/Vista/W7
• CPU: XP : 1.4GHz or Faster; Vista/W7 : 2.0GHz or Faster (Intel Pentium 4, Intel Core, AMD Athlon)
• RAM: XP : 512MB RAM; Vista/W7 : 1.0GB RAM
• HDD: 2GB
• Video Card – 128MB (Nvidia FX 5900 Ultra or greater; ATI Radeon 9800 or greater; Intel 82915G/82910GL or greater)
3D match
A new player AI, for instance, and marked improvements in terms of the substitutions, tactics and the conduct of opposing managers, e.g. after players are sent off, results from this. The new intuitive user interface makes it possible for you to retrieve all the data relevant to the game within seconds and to issue precise tactical instructions.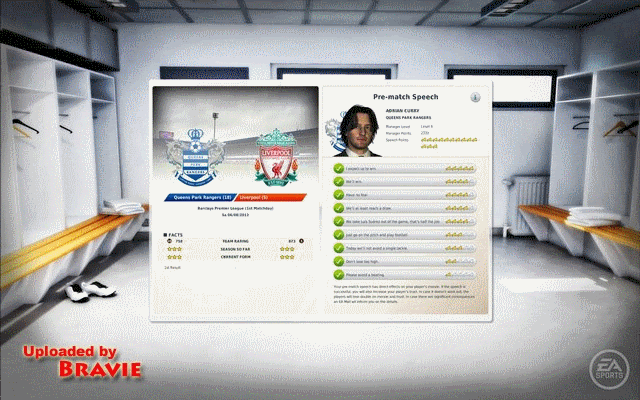 New club facilities
25 buildings with a total of 289 configuration levels are reproduced in detail. In addition there are up to three stadiums with up to 120,000 seats directly on the club grounds. Buildings age and have to be renovated. Each configuration level has specific impacts in other areas of the game. As a player you are thus constantly faced by decisions to make and must develop a genuine strategy in terms of how you want to set up your club in the future.
Finances
The financial sector in FIFA MANAGER 12 is also entirely new. Cubs and players have to first gain the trust of the financial markets through sporting successes. Realistic revenue of the main sponsors help to exactly reflect the large financial differences between top clubs and a smaller club in the game. A stock exchange with club shares should, of course, not be absent. In the sponsorship sector there are also numerous improvements, such as the sponsors' pyramid or sponsors' campaigns to obtain new partners. Moreover, there is the option in FIFA MANAGER 12 of much more intensive interchanges with the main sponsor, who wants to be kept happy.
Transfer market
In the transfer section you can now field players in trials in test matches or commission a detailed analysis of the squad so the team's weak points can be specifically eliminated. Due to the fact that all the AI managers make use of these squad analysis options, the transfers will once again become even more realistic. In this way AI clubs can also cash in expensive stars who do not want to extend their contracts just before their contracts expire.
Classic areas in a new look
A whole range of new options will be available to you in the calendar. From the charity event to direct friendly match queries and extending to lactate tests, no wishes are left unfulfilled.
In FIFA MANAGER 12 the training can once again be planned and implemented on a daily basis in individual units. The player development was made more realistic here which makes the games even more challenging especially at the higher difficulty levels. A special fitness coach will now also offer you his services from the start of the season.
In the Weekly Progress sequence that can now be configured you can select your favourite statistics in a targeted manner and, for instance, precisely track the training or the building progress on the club facilities.
The instant calculation, the cooperation with your Board, the player talks, interviews and the Personal Life feature were also extended.
Your feature!
The fans have been able to directly influence the content of the new FIFA MANAGER game for the first time due to the "Your Feature!" campaign. In seven ballots several thousand participants have, for instance, opted for features such as "Pre-match Speeches", "Hosting a European cup final match", a "Trial training day for hobby players", and the revamping of the "Final 24 hours of the transfer market".
The "Manager Tasks" have also become particularly exciting. Here you as a manager are constantly presented with new tasks in addition to your day to day business so you can gain additional points and achieve manager levels. You can then use these for instance for more effective team talks.
Online mode
The online mode that was successfully launched two years ago should also, of course, not be absent in FM12. All the premium features from the previous year were made freely accessible for all players. The players can now exchange various action items in return for their manager points, there is an extensive avatar editor and the option of creating fantasy leagues. A large number of new statistics rounds off this game section.
System Requirements
OS: Windows XP/Vista/W7
CPU: XP : 1.4GHz or Faster; Vista/W7 : 2.0GHz or Faster (Intel Pentium 4, Intel Core, AMD Athlon)
RAM: XP : 512MB RAM; Vista/W7 : 1.0GB RAM
HDD: 2GB
4x Speed DVD Drive
Video Card – 128MB (Nvidia FX 5900 Ultra or greater; ATI Radeon 9800 or greater; Intel 82915G/82910GL or greater). Earlier cards may only display 2D Match Viewer Mode and are not supported. Laptop versions of these chipsets may work but are not supported
Download Extabit
Download Rapidgator
Download Jumbofiles
Download Rapidshare
Pass : gamezhub.net
1. Download&Extract
2. Mount the iso
3. Install
4. Copy&Paste crack
5. Play!
UPDATE 3 + CRACK
Bug fixes and small improvements:
· In total about 125 bigger and mostly smaller improvements were integrated.
· Extreme season objectives after a promotion were corrected
· Promotion for CaC youth teams is now realistic (this was too hard in previous versions)
· Youth camps don't generate players with high talent and low potential anymore
· 3D Match: Tactics are no longer available during a penalty shoot-out
· 3D Match: Radar doesn't vanish after a slow motion
· Stadium generation for CaC clubs now works (no extremely small/big stadiums anymore)
· "Counter-attacking" setting is now saved for user generated formations
· Streaks: On the weekly progress screen teams do not move in the table by an unrealistic number of table positions
· National team abbreviations in the Live Ticker were removed
· AI for youth camp extensions was fixed (computer clubs)
· AI for the staff costs of the national teams was fixed
· Manager points are now updated on all screens simultaneously
· Income for going public (first 20%) is now calculated correctly
· The pre-match speech about a player scoring twice is now working, penalty shoot-outs are now taken into account correctly for all speeches
· It now possible to delete the reminders on the notepad
· The rating bar on the Scout Reports screen is now working properly
· Negative merchandise mail is no longer showing up if players of the own club are the best ones in the league
· It is now possible to fulfill the promise "Extend Training Ground"
· The movement of players to the Reserves by the AI was further improved
· Several problems with the display of the team level were resolved
1. Extract
2. Run Manager_12_Update_1_0_0_3.exe
3. Copy crack
4. Play