Football Manager 2012 allows you to take control of any club in over 50 nations across the world, including all of the biggest leagues across Europe.
Developer: Sports Interactive
Publisher: SEGA
Genre: Sport
Platform: PC / Windows
Release date: 21 October 2011
Play modes: single / multiplayer
Multiplayer: Internet
Game language: English
Age requirements: Everyone
System requirements:
• OS: Windows XP/Vista/W7
• Processor: XP – 1.4GHz or Faster, Vista/W7 – 2.0GHz or Faster. Intel Pentium 4, Intel Core, AMD Athlon.
• Memory: XP – 512MB RAM, Vista/W7 – 1.0GB RAM
• Graphics: 128MB
• Hard Drive: 2GB
• Sound: DirectX 9.0c compatible
Installation guide + crack + first min gameplay
http://www.youtube.com/watch?v=zMGOnOfBMLs
You're in the hot-seat, which means you decide who plays and who sits on the bench, you're in total control of tactics, team-talks, substitutions and pitch-side instructions as you follow the match live with the acclaimed 3D match engine allowing YOU to make the difference!
As the boss you'll also have full control of team affairs away from the pitch:
* Will you spend big-money on expensive superstars or put a focus on scouting for wonderkids?
* How will you approach training & match preparation?
* Will you be the chairman's best friend or always demand the best investment from the board?
* How do you react when a young star has problems – a shoulder to cry on or a clip round the ear?
* And how will you deal with tricky questions from the media?
Now it's time to put your opinions to the test.
New & improved key features for Football Manager 2012:
Manage Anywhere, Anytime
– the ability to add or take away playable nations in your saved game as often as you want. Manage in that country at the start of the next season – meaning you don't have to decide on which nations are playable at the start of your career.
Transfers & Contracts - significant changes to the transfer and contract systems, including loyalty bonuses, better implementation of amateur and youth contracts, an improved transfer centre and the ability to lock areas of the contract negotiation when you aren't prepared to budge. This helps you to manage your budgets and gives you flexibility in what you offer money hungry players, or agents, as incentives.
Scouting improvements - using several real life scouting reports, a new in-game report was devised which includes squad analysis, tactics information and information about goals scored and conceded alongside lots of other scouting improvements, giving you all the information you need to prepare before kick-off and throughout the season.
3D Match Improvements – new animations, a whole new crowd system, improved weather system, more stadiums, plus two brand new cameras – "Behind Goal" and "Director Cam" as well as all other camera angles being reversible – meaning you can watch and analyse every aspect of every game.
Intelligent Interface – a new adaptive layout system, which means the higher your screen resolution, the more info is easily at your fingertips. The new interface also contains new filters, customisable columns, a new tactics screen, and lots of new overview screens.
Tone – a whole new level has been added to team talks and conversations, with the new tone system, which allows you to specify the way you want to say things – be as cool as a cucumber by saying things calmly or throw tea cups around by saying things with passion. There are 5 different tones to choose from with specific comments per tone.
Brand New Tutorial - standing separate from the main game, a mode to help new players find their way around the game easily, whilst also offering tips to experienced managers on how to get the most out of the game, as well as a new in-game "how to" system.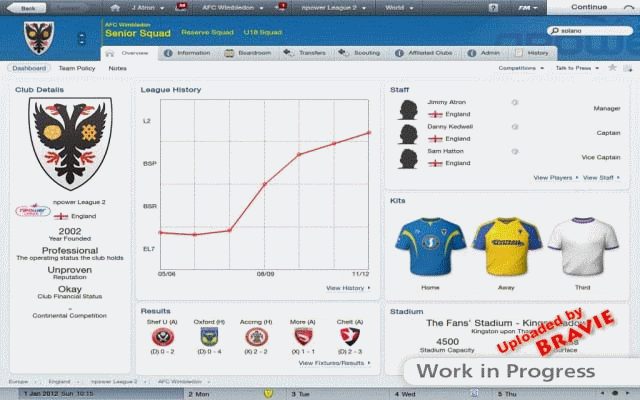 On top of these key innovations, there are over 800 new features making huge improvements, such as the media system, press conferences, the youth system, newgens, the social networking options, friendlies, international management and many more which will be detailed in a series of video blogs over the coming months, alongside more information about Football Manager 2012.
OS: Windows XP/Vista/W7
Processor: XP – 1.4GHz or Faster, Vista/W7 – 2.0GHz or Faster. Intel Pentium 4, Intel Core, AMD Athlon.
Memory: XP – 512MB RAM, Vista/W7 – 1.0GB RAM
Graphics: 128MB
Supported Chipsets – Nvidia FX 5900 Ultra or greater; ATI Radeon 9800 or greater; Intel 82915G/82910GL or greater.
Earlier cards may only display 2D Match Viewer Mode and are not supported.
Laptop versions of these chipsets may work but are not supported.
Hard Drive: 2GB
Sound: DirectX 9.0c compatible
LAN: TCP/IP compliant
"football manager 2012 12.0.3f231651 has stopped working
a problem caused the program to stop working correctly. windows will close the program and notify you if a solution is available."
1. Uninstall steam
2. Install FM 2012 (skidrow version)
3. Replace only fm.exe from SKIDROW folder
4. Start the game
1. To get editor worked
(if downloaded STEAM UNLOCKED version and Editor separately), place all folder as my pic

2. Football Manager 2012 Crashes – Crash To Desktop
FM 2012 crashes when you start the match in 3D. If it happens, make sure you have updated your video card drivers and your video card is supported by the game.
Another issue for the random crashes can be your internet security, so try running the game with all the antivirus, internet security softwares disabled. Or you can add Football Manager in the their exceptions list.
If you still can't fix the problem, rename your ClientRegistry.blob, and restart Steam – c:\program files\steam by default.
3. Football Manager 2012 Connection Issues
Make sure you have these ports forwarded:
UDP 27000 to 27015
UDP 27015 to 27030
TCP 27020 to 27050
TCP 27015