Two decades have passed since the events of the Diablo II: Lord of Destruction expansion pack, in which the demonic lords, Diablo, Mephisto, and Baal, set out across the world of Sanctuary on a vicious rampage, twisting humanity to their unholy will. Yet for those who battled the Prime Evils, the memory fades slowly. When Deckard Cain returns to the ruins of Tristram Cathedral seeking clues to defeat new stirrings of evil, a fiery harbinger of doom falls from the heavens, striking the very ground where Diablo once entered the world. This fire from the sky reawakens ancient evils, but also calls the heroes of Sanctuary to defend the mortal world against the rising powers of the Burning Hells once again.
Developer: Blizzard Entertainment
Publisher: Blizzard Entertainment
Genre: Action RPG
Release date: 15 May 2012
Play mode: SP/MP
Size: 8G
Game/Subtitle language: ENG

System requirements:
• CPU: Intel® Core 2 Duo 2.4 GHz or AMD Athlon™ 64 X2 5600+ 2.8 GHz
• GPU: NVIDIA® GeForce® 260 or ATI Radeon™ HD 4870 or better
• RAM : 2G
• Hard Disk Space 12 GB
• Windows® Vista/7 (latest service packs)

Shake the earth, blast your enemies with fire and ice, summon otherworldly minions and much more as you wield the powers of your heroic birthright.
There are five classes in Diablo III; four (the wizard, witch doctor, demon hunter and monk) are brand-new, and the returning barbarian has many, many new destructive tricks for tearing through foes. Each class has a unique resource system and appropriately different playstyle – no longer do all heroes share the single resource of mana.


Lay waste to legions of evil throughout randomized, 3D environments. Face innumerable demonic villains, uncover quests in new locations, and claim different loot every time you play. No two games are ever the same.

Use the Real Money Auction House to buy and sell items for real world currency. Then draw on your earnings to buy ever more powerful items or cash out your trades, take the money, and run. The choice is yours.

From the fabled spires of Caldeum to the besieged walls of Bastion's Keep, the mortal world has fallen under the corrupting influence of infernal powers. Aid in Sanctuary's defense as it teeters on the brink of demonic annihilation.

What's New in Diablo III?
New Epic Storyline
Diablo has always been a macabre take on a classic theme – the battle between good and evil – set in a world of fragile people who have somehow persevered through chaos and tragedy. In Diablo III, we're taking this story to new heights (and depths), and exploring parts of Sanctuary we've only hinted at in the past.
Combat: Faster, Smarter, Deeper
Combat in Diablo III follows the established model of clicking on your squealing, snarling enemies and watching the carnage – but it's deeper and richer. Scads of defensive abilities for each class mean more tactical possibilities; cooldowns on potions guarantee that choosing your targets carefully and controlling the battlefield is as important as what you bring with you to a fight, and the presence of health globes ensures that mobility can mean the difference between life and death.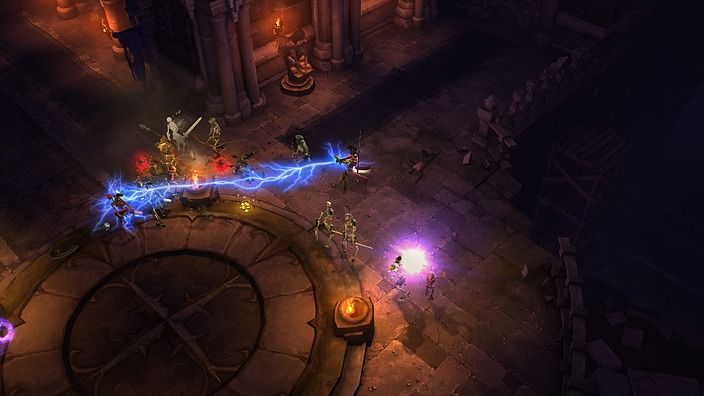 Improved Controls
Diablo III adds new control options to the classic Diablo II hotbar, including full customization of all shortcut and mouse buttons, to make using your skills during combat quicker than it's ever been.
Monsters and Items
Diablo III has more different, distinct monsters than Diablo I and II, and these monsters all bring their own special destructive abilities, some new and some familiar. The variety of Diablo III's random items is similar to that of the other Diablo games (though we've included Legendary items), but we've added thousands of new combinations, many with unique abilities and previously unseen properties.
New weapon and equipment types, like the demon hunter's one-handed crossbows and witch doctors' mojos, also provide a great deal of class-specific flavor.
Skill Runes
In Diablo III, runes give you unprecedented control over your skills and powers, changing elemental damage types, accuracy, and area of effect; adding new debilitating effects like slows and stuns; and even altering the nature and appearance of your abilities.
Followers
Sometimes a hero needs a helping hand. Followers, champions brave enough to join you in battle against the Burning Hells, are similar to Henchmen from Diablo II in that they can be outfitted with relevant arms and armor, but they're upgradable with their own skills, allowing you to customize how they fight and what passive benefits they convey. They're also fleshed-out personalities in their own right.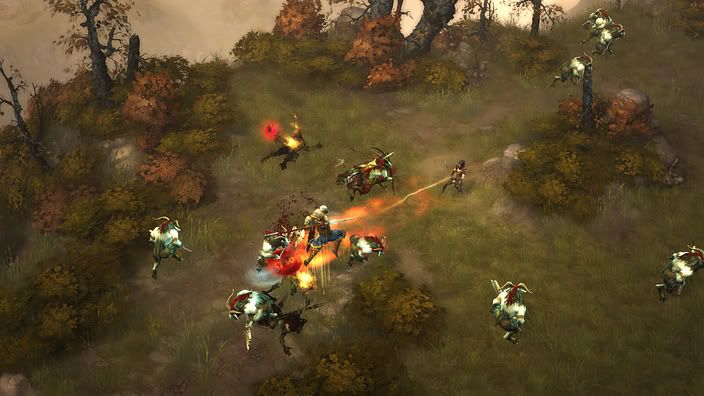 Crafting & Artisans
As you meet and assist people during your journey through Sanctuary, some of the world's most talented craftsmen will sign on to travel with you. These artisans are capable of putting the materials you'll find in the wilderness or salvage from unneeded items to good use, hammering out customized suits of armor or combining gems to unlock their powers.
Invest time and money into an artisan's training, fill their shop with worthy materials, and they'll keep improving the quality of items they can produce, augment or combine for you.
Seamless Interaction
To push Diablo's blistering fast pace even harder, we've made some changes to Diablo III's character and inventory 'management' systems, so you'll spend more time using new powers to slay your enemies and get loot. Rather than hoarding skill points and holding off on improving your abilities while you wait levels for an ideal build, Diablo III lets you "respec" your skills readily to experiment with interesting choices. You can also share items between all of your characters just by placing them in your stash, and you can identify unknown items and teleport back to town without needing to collect scrolls and tomes to do so.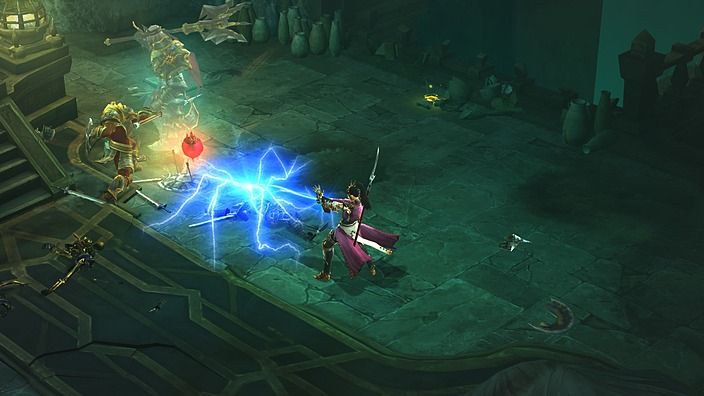 Minimum System Requirement
Windows® XP/Vista/7 (latest service packs) with DX 9.0c
Intel Pentium® D 2.8 GHz or AMD Athlon™ 64 X2 4400+
NVIDIA® GeForce® 7800 GT or ATI Radeon™ X1950 Pro or better
1 GB RAM (XP), 1.5 GB (Vista/7)
12 GB available HD space
Broadband** Internet connection
1024×768 minimum resolution


Recommended System Requirements
Windows® Vista/7 (latest service packs)
Intel® Core 2 Duo 2.4 GHz or AMD Athlon™ 64 X2 5600+ 2.8 GHz
2 GB RAM
NVIDIA® GeForce® 260 or ATI Radeon™ HD 4870 or better
Download Diablo 3 Collectors :
SOUNDTRACK :
GAME GUIDE :
WALLPAPER :
BEHIND THE SCENE :