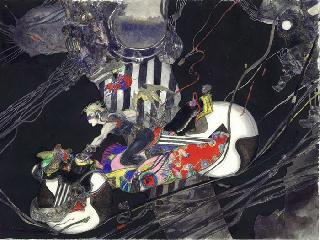 Final Fantasy VII in itself is a masterpiece. It is by far the best selling Final Fantasy game, even up to the present day. People will have their opinions about VII, VIII, and IX, but the fact remains that it has sold the most copies out of any other Final fantasy game in the whole series. (including the PS2 and PS3 generations)

Good marketing

? Possibly. It is the first Final fantasy game to ever hit 3-D, so the graphics might be as expected. The materia (magic) system is pretty unique and allows each character to be customized to the player's choice.The story is one of the

best the

series has to offer. If Square Enix ever was to remake a game, this would be one of the most deserving. It was the first in 3-D, the first to bring the Final Fantasyseries into the spotlight and give its world renown fame today. It is the simply the best. If you've played the game and dislike it or you're an RPG critic, you should still pick it up and play. I'm sure you won't be disappointed. Despite the translations, graphics, etc. I easily rate this game with a 5/5.
SIZE : 416